The InSiders
Myron Dang, OTR/L
Occupational Therapist
Co-Founder and Clinical Director of

In

Gym

™



Myron Dang, OTR/L is bilingual in Vietnamese and a graduate of Pacific University with a master's degree in occupational therapy 2008. His professional training began at Cottage Rehabilitation Hospital Santa Barbara working with patients who had: traumatic brain injury, spinal cord injury, stroke, cardio and musculoskeletal disorder. After his experience in the medical model, Myron wanted to influence his creative practice with the pediatric population.
In 2011 he moved to the San Francisco bay area and worked in a school district and pediatric therapy clinics. Myron also provided services at homes, parks, gymnastics gyms and swimming pools. Towards the end of 2011 he decided to dedicate his skills as a private practitioner and with his wife they created Generation Sense, LLC.
Through Generation Sense he has helped children having difficulties with: Autism, ADHD, Sensory Processing Disorder, Spina Bifida, Cerebral Palsy, Down Syndrome and Pervasive Developmental Disorder. He has completed continuing education in: Neurodevelopmental Treatment, Masgutova Neurosensorimotor Reflex Integration, Therapeutic Listening, Myofascial Release, Interactive Metronome, sensory diets, self-regulation, improvement in fine motor skills, and collaborative problem solving for children with problematic behavior. Myron is also a certified Irlen visual sensory overload screener for children with learning disabilities. He continues to pursue continuing education courses and innovative ideas for the benefit of his clients. He has a client-centered approach by listening to them and getting into their playful world during therapy treatment.
Myron's innovative approaches have opened up new avenues in therapy that include martial arts with an occupational therapy perspective, gross motor play and modified sports groups. He will be providing specialty services at InGym that include: Ninja Skills, Into the Mountain and Irlen Screening.
---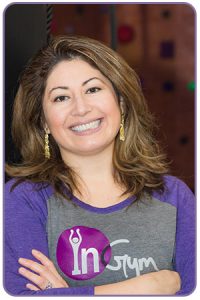 Tannia Cisneros Dang, MOT
Occupational Therapist
Co-Founder and Director of

In

Gym

™



Tannia is bilingual in Spanish and graduated from University of Florida with a bachelor's degree in Anthropology and a minor in history.  During her first job after college as a Quality Analyst for Baptist Health South Florida, she realized that she wanted to be in a profession interacting with people and improving their quality of life. She graduated from Florida International University with a master's degree in occupational therapy and began her occupational therapy training at Jackson Memorial Hospital, a level I trauma hospital and teaching hospital for the University of Miami. She acquired vast experience in spinal cord injury rehab and neurology rehab treating patients in acute stages after suffering strokes, traumatic brain injuries among other neurological diagnosis, as well as experience treating polytrauma, hand injuries and patients in intensive care.
Under the mentorship of her professors, she began her pediatric training at the pediatric clinic of Florida International University to treat children diagnosed with Autism, ADD/ADHD and working along therapists certified in sensory integration and ABA.
Tannia was able to take her experience and worked as a traveling occupational therapist for a few years in various settings. While in Southern California, she acquired experience in vision therapy working with a renowned neuro-optometrist in neuro vision rehabilitation.
After settling in the San Francisco bay area, she became a senior occupational therapist at Stanford Hospital, as well as co-founder of Generation Sense, LLC in 2012. Tannia became the business manager for Generation Sense, worked as a business development consultant for a local staffing agency, while also expanding her clinical skills to treat pediatric and adult clients in their home environment. Her experience has transpired her to lead children's cooking groups, gross motor play groups and ninja skills groups. She has training in Autism Diagnostic Observation Schedule – ADOS-2 Certified, Interactive Metronome Certified, Neurodevelopmental Treatment, splinting, Kinesio Taping, vision therapy, dysphagia level II, assistive technologies, seating and positioning, and physical agent modalities certified.
---
Tracy D. Wallace, M.S., OTR/L
Occupational Therapist
Tracy earned her Masters' of Science degree in Occupational Therapy from Rush University, Chicago, Illinois in August 2000. Since then she has been working continuously in the pediatric setting. Between March 2005-October 2016, Tracy independently and successfully managed a sole proprietorship providing outpatient, private clinic-based pediatric clientele. She specializes in the evaluation and treatment of children who present with a variety of developmental challenges either with or without diagnoses, while collaborating closely with parents, guardians, and caregivers.
Occupational Therapy sessions utilize movement-based principles from Sensory Integration in order to organize the nervous system and prepare the brain for learning. An organized nervous system promotes safe and independent participation in activities of daily living in terms of work/school, play, self-care, and leisure that are culturally relevant, personally meaningful, and at one's own developmental level. Tracy is registered with the National Board for Certification in Occupational Therapy and holds a California State Occupational Therapy License. Both organizations require yearly continuing education from accredited institutions that directly relates to Occupational Therapy practice to ensure that high professional standards are met and maintained.
Tracy's professional continuing education certifications include earning the internationally recognized Certification in Sensory Integration from USC & WPS (also known as being "SIPT Certified"), as well as earning an Advanced Certification to administer Therapeutic Listening. Tracy has attended a variety of professional continuing education courses which include ALERT Program; Handwriting without Tears; Keyboarding without Tears – From Pencils to Keyboards: Written Production in the Digital Classroom; NDT principles; Sensory Strategies and Diets for Homework Success; Visual-Vestibular Assessment & Treatment; Vestibular Habilitation from the Core; Pathways to Self-Regulation; Dyslexia, Dyscalculia & Dysgraphia: An Integrated Approach (Reflex Integration); Brain-Based Approach to Linking Motor Development and Sensory Integration: Movement-Based Learning to Strengthen Sensory-Motor and Neuro-Motor Function in Children
---
Janhavi Kutmutia M.S.OTR/L
Occupational Therapist
Born and raised in Mumbai, India, Janhavi earned her bachelor's degree in occupational therapy from University of Mumbai along with being the cultural secretary for her college. She has worked in various settings in India including private pediatric clinics, orthopedic, surgery, burns unit and community based rehab settings. Her zest to learn and provide evidence based practice encouraged her to pursue different courses. She completed her diploma in Rehab from All India Institute of Medical Sciences, India which involved performing evaluations and implementing individual interventions, splint designing, providing prosthetic training and conducting driving evaluations in adult population. She went on further to earn her Masters Degree in Occupational therapy from University of Pittsburgh. She has worked in acute and inpatient settings as well as volunteered at the Santa Clara Valley Medical Center.
She also brings many years of experience, working with children with various diagnoses such as Autism, PDD, ADD/ADHD, Cerebral Palsy, Down Syndrome and Learning Disabilities and thus found her interest in working with the pediatric population especially in children with sensory processing disorders. She is a registered occupational therapist by the National Board of Certification for Occupational Therapy and is licensed to practice in California and Texas. She is also SIPT Certified (Sensory Integration and Praxis Test) from University of southern California in association with WPS. She has worked as a school occupational therapist with the Santa Clara County office of Education and also at a private pediatric clinic in San Jose in the past.
While she is a member of American Occupational Therapy Association and All India Occupational Therapy Association, a few of her other accomplishments include certification in the Handwriting Without Tears program, Sensory Integration Disorder, Visual Motor skills and perceptual enrichment programs. She is also a certified brain gym instructor and an expert in PASS assessment (Performance based assessment of self care skills). She has experience in conducting various pediatric standardized tests such as COMPS, BOT-MP, SENSORY PROFILE, VMI and many others. She believes in team work and a holistic approach towards therapy and loves to provide parent education to help them understand their child better.
In her spare time, she loves to travel with her husband and try various adventure sports.
---
Mary-Lynn, OTR/L
Occupational Therapist
Mary-Lynn, OTR/L graduated from Cal Poly San Luis Obispo with a bachelor's degree in social sciences and a minor in psychology. Following graduation, as an ABA trained therapist, she began working with children with diagnoses such as autism, PDD, Down Syndrome, learning disabilities, ADD/ADHD, and other complex genetic disorders. After 4 years working with children with special needs, both through volunteer work and paid employment, she began to pursue her masters in occupational therapy in order to further assist others reach their full potential. She graduated from San Jose State University with a master's degree in occupational therapy and began her post-graduate fieldwork rotations.
First, at Dominican Hospital in Santa Cruz, she worked in acute care, general medicine and acute rehabilitation units, serving adults with a variety of complex, multi-system, acute medical conditions. Next, working at Momentum for Mental Health, she had the opportunity to provide therapy from a social emotional approach, working with adolescents with severe mental illness learn important life skills and manage their illness. Throughout these and past experiences working with others, Mary-Lynn has learned the value of collaboration, family involvement, patience and creativity.
As a pediatric OT, she strives to successfully support children towards a higher level of independence; helping kids learn to connect with the world on a physical, social and emotional level. She is a strong advocate to those facing challenges and overcoming setbacks and focuses on using a playful and strength-based approach.
In her free time, Mary-Lynn enjoys traveling, cooking and spending time outdoors; at the beach, out on the water or hiking, in her Santa Cruz hometown.
---
Payal Saxena, M.S. OTR/L
Payal graduated with a Masters of Science in Occupational Therapy from Stanbridge University and is registered with NBCOT. She initiated her career with school-based occupational therapy experience in Southern California before transitioning to InGym. Among her continuing education, she has participated in the Handwriting Without Tears Pre-K and K-5 workshops. She is familiar with sensory-based interventions in both school and natural environments. She continues to expand her knowledge base under the guidance and mentorship of InGym's very own SIPT certified therapists.
In her free time, she likes to hike with her dog, try new lattes and cook. She is a member of the Occupational Therapy Association of California (OTAC).
---
Lauren Kuferm MSOT OTR/L
Lauren  is a native of the Bay Area and graduated with her Master's in Occupational Therapy from Dominican University of California. Since graduation, she has continuously worked in the pediatric and young adult setting. She worked with a pediatric clinic while also working with a consulting company. She has experience within the the therapy settings of public school, nonpublic school, consulting company, and pediatric clinic with clients between the ages of 6 months to 27 years.
She has been trained at Circus Center in San Francisco and SANCA Seattle in a variety of circus arts including aerial arts, handstand, flying trapeze, and object manipulation. Through those circus schools, she had the opportunity to help develop and participate in two pilot programs that trialed the use of circus therapeutically for children with autism. She specifically uses the circus art of object manipulation to work on skills such as visual tracking, bilateral coordination, crossing midline, sequencing, and motor skills acquisition in a fun and engaging way. Lauren enjoys getting to know each client and tailoring therapeutic activities to work in their interests and intrinsically motivate them to play towards their goals.
In her free time, Lauren enjoys traveling, knitting, juggling, riding her unicycle, and cooking. One day, she hopes to juggle while riding her unicycle!
---
Chandru Vittalbabu, M.S., CCC-SL
Speech-Language Pathologist
Chandru is a native of the Bay Area, and has a bachelor's degree in Linguistics from the University of California, Davis. He wanted to find a career that combined his passion for language and for helping others, and speech-language pathology was a natural choice. He obtained a master's degree in Communication Disorders from the University of Texas at Dallas. Chandru has experience working as a speech-language pathologist in public schools, private schools, private practices, and outpatient rehabilitation facilities. He has worked with clients from preschool-age to geriatric.
Chandru is a firm believer in "push-in" therapy, or providing therapy in places where the child is. In graduate school, Chandru helped spearhead a project to provide therapy in preschool classrooms for children with hearing impairment. During his time at Santa Clara Unified School District, Chandru provided therapy in the classrooms for children with articulation, language, and social skills needs.
Chandru has extensive experience with children with a wide variety of communication needs, such as articulation, apraxia, expressive/receptive language, stuttering, and social skills. He enjoys getting to know his clients and connecting with shared interests. He is a member of the American Speech and Hearing Association, and is licensed by the state of California.
Chandru is excited to bring his experience with inclusion and pediatric therapy services to InGym!
---